Cage-free and Sound-Proofed Facility
We designed the 24 Hour Dog Daycare facility to give your dog as much room as possible to play and relax. Each play group has its own section with enough room for them to run around all day if desired. At night, we don't put our canine guests in cages or kennels, either. The social dogs stay in the same room, with plenty of dog beds to choose from. The private dogs have their own suite.
Dogs can be sensitive. Sure, they bark all the time, but they're used to that. Airplanes constantly flying overhead, noisy trucks driving by, or the sound of thunder can stress out even the most laid-back dog. So, we have soundproofed our entire dog Daycare and Boarding areas, in both our locations.
Here When You Need Us
24 Hour Dog Daycare has raised the bar when it comes to being there for our clients. Your dog is a 24/7-365 commitment, and if you need to leave home at the drop of a hat, for whatever reason, your dog boarding facility should be there for you at any time, too. And we are! Both our locations are open and ready for you 24/7-365.
We pride ourselves on our communication and are dedication to our clients. Talk to us about anything dog-related – we're here to help!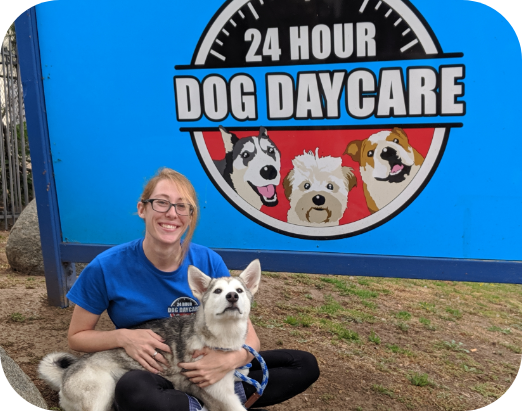 The Best Late Policy
We set the standard for customer service. We know everything about traffic, or unexpected phone calls, or unexpected anything, and we don't charge you a dime if you're anywhere from a few minutes to an hour late in picking up your dog*. If you need longer than an hour, it's easy to purchase a half-day or even a full day of daycare. This saves you money and gives you peace of mind.
* Doesn't apply to half day visits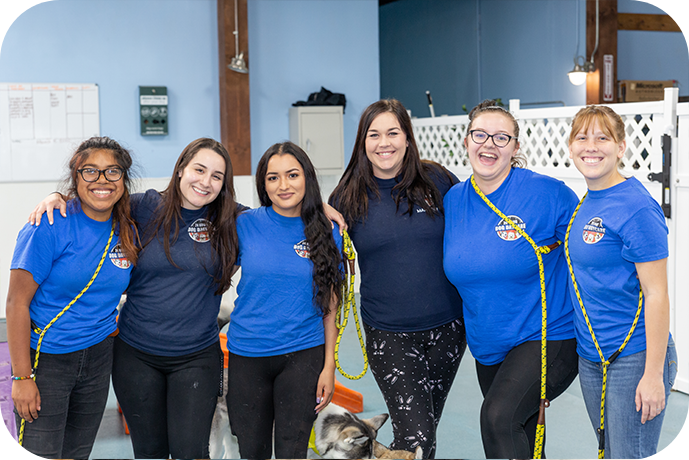 Safety Minded Team
Your dog's safety is paramount at 24 Hour Dog Daycare. That's why we offer your first day of Daycare absolutely free. In this time, we'll learn the temperament of your dog. Some dogs don't need long to safely socialize with new arrivals, but others do. We find the best play group for your dog, to ensure they'll be happy and safe.
Our staff is trained to recognize a dog's body language and the signals they give us, so we can stop any problems before they begin. Should something happen to your dog, we respond quickly and let you know immediately.
We'll take your dog to your own vet if desired and if necessary, or we have partnered with a veterinary service (Veterinary Specialty Hospital) that we think is the best in the country, let alone San Diego.
The Best Daycare &
Boarding Packages
24 Hour Dog Daycare has designed Daycare and Boarding packages to suit the needs of practically any client. We don't have any hidden restrictions or extra fees – we make sure you know exactly what you're buying and what you get for your money. We also give you maximum flexibility – when you purchase a package you can use your days at your convenience. There's no need to use them on consecutive days – which means they save you money.
24-Hour Veterinary Partnership
We have teamed with Veterinary Specialty Hospital to ensure the safety and health of your dog. VSH staff of doctors, technicians and client representatives have undergone exceptional training and have the motivation and compassion to do their best for the dogs they treat – that's why we chose to partner with them. VSH also has some of the most advanced medical equipment for pets that you'll ever see, everything from MRS, CAT scan, radiation therapy, digital radiography, a state-of-the-art intensive care unit, surgical suites, endoscopy and ultrasound, and more!