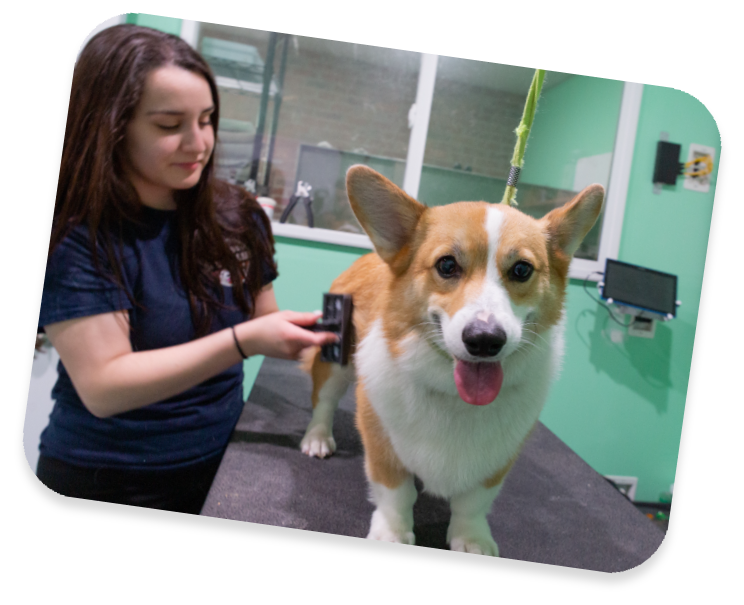 Our Services
Dog Daycare

24 Hour Dog Daycare is committed to giving your dog the best daycare experience they've ever had. That's why we don't bother with extra charges like "extra TLC" or "one-on-one play time".

Dog Boarding

Whether your dog prefers the company and play of other dogs or just needs lots of human interaction we have the boarding options. No fees for feeding or medication, and no late fees.

Dog Grooming

Good grooming requires passion, and we've got it! Whether just a simple bath or a complex haircut, Sailey has you covered. Check out our Facebook or Instagram and you'll see that the pictures
speak for themselves!
Your dog is a 24/7 commitment

Life happens, and your dog care facility should be there when it does. That's why it's so important to us that we are available to our customers at all times.

Take a Virtual TOUR

Most daycares and boarding facilities have limited amount of play-time or kennels their guests at night. Not here! You have a peace of mind knowing they aren't caged up, but rather in the
playing area hanging out with their best FURiends!

Save big with extended stays!
Pricing Packages
Social Boarding
When sociable dogs are made to sleep separately, many of them just want to get back to their friends. Get a group of dogs together, turn the lights off, and they're out in no time. Many dog owners let
their dogs sleep with them, and social boarding is the perfect way to help these dogs achieve that same comfort.
Social Boarding Includes:
Dogs Get To Play All Day
Dogs Get To Sleep Next To Their Friends
Constant Human Attention
Additional Dogs Only $63/Night Each (when staying together)
10% Discount For Dogs Staying 10 Or More Nights
15% Discount For Dogs Staying 20 Or More Nights
Private Boarding
We understand that not all dogs are highly sociable, or that some dogs simply need the peace of being on their own. We also understand that being the only real 24 hour facility in San Diego (the only one
without pick-up or drop-off windows) we may be needed in times of emergency and there may be no opportunity for a temperament test or socializing. For these instances we are happy to offer Private
Boarding. Your dog can still look forward to plenty of one-on-one human attention and will be looked after as if they are at home.
Private Boarding Includes:
Private Suite For Your Dog(s)
Great For Unsocialized Or Elderly Dogs
Plenty Of Human Attention
Additional Dogs Only $73/Night Each (when staying together)
10% Discount For Dogs Staying 10 Or More Nights
15% Discount For Dogs Staying 20 Or More Nights
A $10/day surcharge may be added for each dog on some Holiday weekends.
To view the Holiday pricing schedule, please click here.